Affordable and reliable, Ethernet VPN is the ideal multi-site data service for corporate and government organisations
Ethernet VPN is the next generation, adaptive, high-performance layer to service connecting customer sites. It enables customers to connect two or more sites together, and to transmit data between them in a variety of configurations. The strength of Ethernet VPN lies in its flexibility and capability to support wide range of business requirements, all designed to meet a customers' needs.
There are two features to our Ethernet VPN Service
Ethernet VPN Access (which is the physical connectivity to Vodafone Network) and Ethernet Virtual Connections (which defines the connectivity between sites)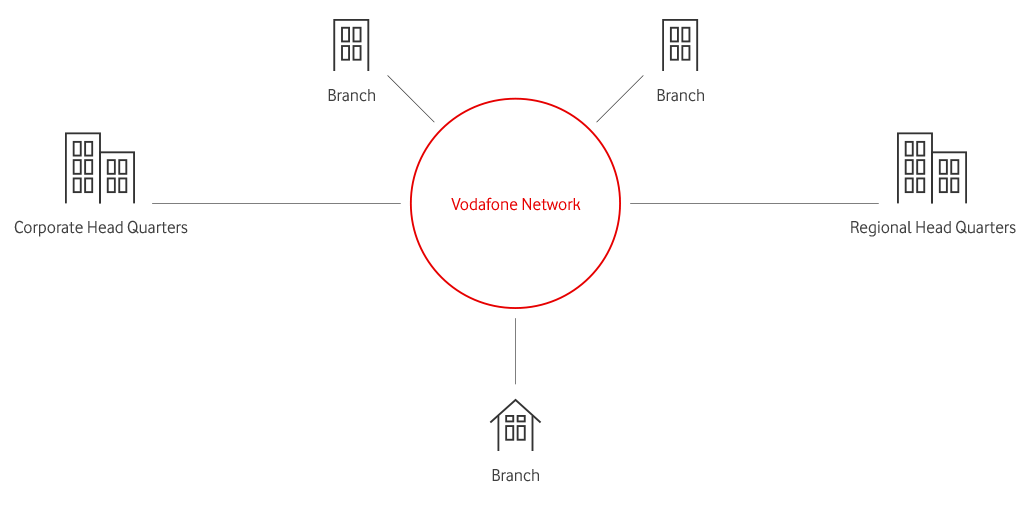 Feature
Description
Better cost efficiency
• Bandwidth sharing enables maximum use of available bandwidth at all times
• No requirement to purchase additional equipment as the Vodafone equipment can plug directly into your LAN. This feature comes as standard
• Vodafone provides a single access that offers Internet ,IP VPN and Ethernet on a single device, so you have less equipment to purchase and store
Better control over your network
• Add sites to your network rapidly and modify bandwidth as needed
• Flexible range of speeds between 1Mbps and 1Gbps
• Different classes of services can be defined to prioritise your most important applications and network traffic
Ownership
You retain exclusive control of your IP architecture, IP version, addressing scheme and routing tables
Innovation
Ethernet offers capabilities not available in IP Ethernet VPNs, such as different types of multicast
Security
Ethernet VPN provides critical applications with optional protected bandwidth between sites
Flexibility
Ethernet VPN is the ideal evolution for ATM, Frame Relay and Leased Circuits, offering increased bandwidth, improved bandwidth scalability and lower total cost of ownership delivers a flexible solution topology to serve changing business requirements
Class of service
Some applications have more demanding requirements (Voice, Video, ERM) than general data. class of service allows the customer to define additional performance characteristics for some of the Ethernet VPN capacity that will support such applications. When not required the capacity is available for other traffic.
There are 3 classes of service that help ensure traffic is prioritised correctly:
Premium
ideal for delay and Jitter-sensitive applications such as voice and video
Enhanced
the right choice for delay sensitive applications
Standard
designed for 'best effort' data such as email and web browsing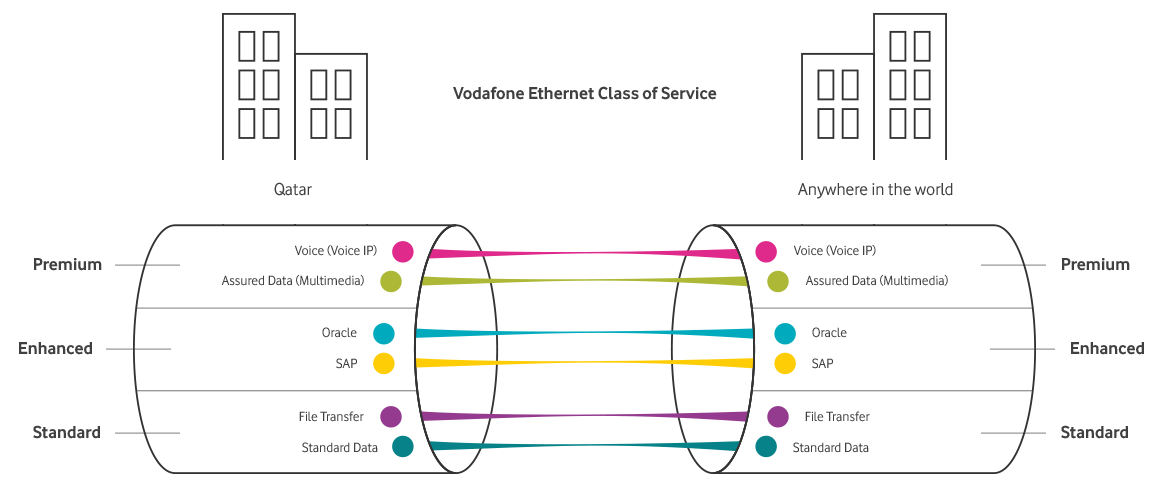 Performance Reporting (at Request)
You can monitor the performance of your network, on certain service parameters (Utilization, Throughput, Data in/out). Click here and login to view your reports.
Ethernet Virtual Connections
Ethernet Virtual Connections defines the connectivity between sites.
Connectivity options are:
Ethernet Private Line
for point-to-point connectivity
Ethernet Virtual Private Line
for point-to-multipoint connectivity
Ethernet Virtual Private LAN service
for any-to-any connectivity