Corporate Internet
As the Internet is so important to the way we work today, it is critical that you have a service you can trust and rely on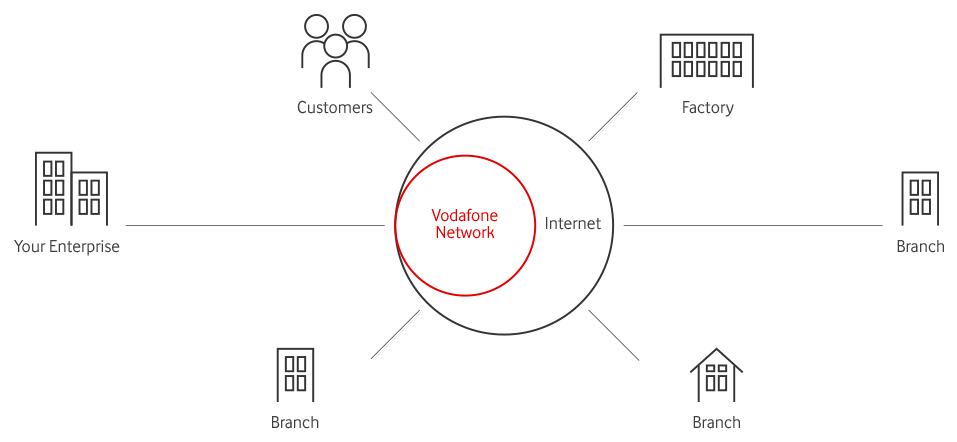 When you need direct internet access that you can rely on, our Corporate Internet is the intelligent choice. Vodafone Corporate Internet provides you with a secure and reliable connection to the internet which supports fast two-way exchange of data and high-speed connection that is always available. It is an efficient way to connect to your customers, suppliers, remote offices, home workers and employees.
Corporate Internet Features
| Feature | Description |
| --- | --- |
| Acces Tecnology | Ethernet services delivered over fibre access with high availability |
| Speeds | A range of flexible uncontended symmetrical bandwidth are available: 1Mbps, 2Mbps, 5Mbps, 10Mbps, 20Mbps, 50Mbps, 100Mbps, 200Mbps, 500Mbps, 1Gbps |
| Industry-leading(SLA) | Industry-leading SLA s available upon request |
| Resilience | Protected resilience options using a second access with diverse routing |
| Services | Static IP Addresses: Are available to enable your Enterprise to be reached |
Benefits
Corporate Internet is optimised for performance. Our uncontended "one on one" guaranteed bandwidth ensures your applications can perform at their best, improving customer experience, productivity and profitability
Uncontended
Specified capacity is always available and not affected by other users or network customers
Symmetrical
The Enterprise can send data to the internet as fast as it can receive it; good for file exchange and Web-facing businesses, content providers, order portals
Service
We understand the internet is mission-critical, 24 x 7, so we offer a range of services to maximize availability including access fiber resilience and fully resilient options
Cost Control
With Corporate Internet you pay only for what you need, by adjusting your bandwidth, according to your business demands in less than 72 hours
Flexibility
Select the bandwidth needed based on traffic and performance required
Performance Reporting (at Request)
You can monitor the performance of your network, on certain service parameters (Utilization, Throughput, Data in/out). Click here and login to view your reports.