Secured connection for your organization!
Use private mobile data connections for added security in your organisation
What is Dedicated APN used for?
Dedicated APNs are usually used by corporate organisations that need to collect sensitive customer and operational data from the field and then transfer the data back to a head office network.
Corporate organisations can link their geographically remote offices in one common network using a Dedicated APN for basic connectivity for remote locations and for facilitating the information flow between them and the head office by optimizing the business processes.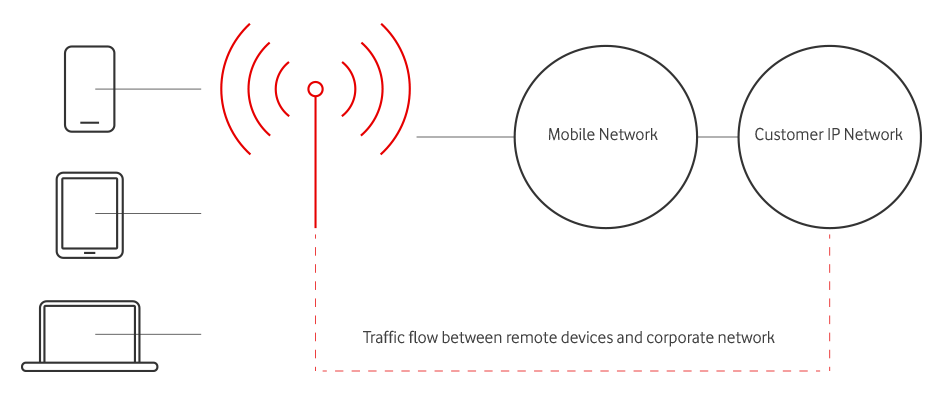 Even if you have IP VPN, you can use Dedicated APN as a backup solution for critical locations.
As a corporate organisation, you need a secure environment for your Internet of Things applications. A Dedicated APN is, therefore, a suitable solution for you.
Key Benefits of Dedicated APN
Security
Subscribers that are connected via a Dedicated APN are only visible to other devices on the APN.
Configurability
A Dedicated APN offers customers the ability to configure various settings such as IP address ranges, static or dynamic addressing and authentication techniques.
Cost Effectiveness
APN offers a cost effective mobile VPN solution due to the ability to aggregate usage as well as competitive data pricing.
National Coverage
Vodafone's extensive mobile coverage and network reliability means that mobile users will have fast and secure access across the country.
Global Coverage
Vodafone's extensive global network offers APN user access to their VPN across the globe.
Complementary Products
These include Corporate internet, IP VPN and access solutions (fiber and microwave). Our extensive product range allows Vodafone to provide a one-stop shop to our customers to provide a complete end-to-end service.
Perfect for Internet of Things
You can also use a Dedicated APN for Internet of Things applications - such as collecting data from handheld devices, streaming video from mobile cameras and sending job schedules to people on the road.
Design Support
Our Vodafone Enterprise Sales Team includes dedicated Solutions Specialists to advise and assist customers with a complete solution design.
Dedicated APN Features
| Feature | Description |
| --- | --- |
| APN Type | Access Point Name is the point where a mobile device can enter an IP network. |
| IP Allocation Method | Dynamic or Static. |
| Traffic Access Type | IPsec (over public Internet) or IP VPN (over MPLS). |
| Data Bundles | Different types of data bundles depending on customer needs (Standard or Customized). |
How to get it?
Contact your Account Manager, call Vodafone Business Care on 110 or