Doha, 25 September 2019: Vodafone Qatar has announced the launch of its latest offer giving customers access to a wide array of high-quality South Asian entertainment and content including films, series, music and short-format content from Eros Now. Vodafone Qatar has concluded a strategic partnership with the South Asian entertainment OTT (over-the-top) streaming platform by Eros International Plc, a Global Indian Entertainment Company.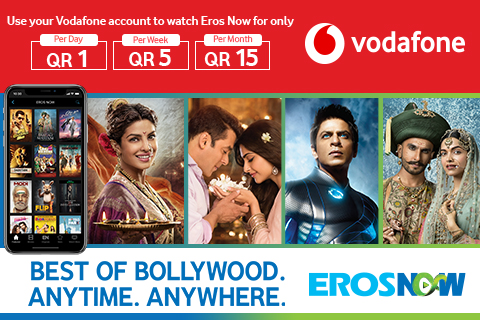 Through this partnership, Vodafone Qatar's customers can now enjoy access to Eros Now's ample library of more than 12,000 films in several regional languages, original series, music, as well as the recently launched short-format content category – Eros Now Quickie.
The partnership significantly enhances Vodafone Qatar's offering for a significant segment of its customer base. Qatar's large South Asian community positions it as a significant market for such regional content while Bollywood films and series are popular with audiences in Qatar.
Shavkat Berdiev, Consumer Business Unit Director of Vodafone Qatar, said: "Vodafone Qatar is pleased to extend this new offering to give our customers the widest possible choice of high-quality on-demand South Asian content through our partnership with Eros Now. As we continue to deploy 5G technology with its incredibly high network speeds, we anticipate that the demand for movies and videos on our network will continue growing as the experience of viewing on-the-go becomes even more seamless with 5G speeds."
For convenient billing, customers can watch Eros content and pay through their Vodafone accounts at the cost of QR1 per day, QR5 per week, or QR15 per month. To start enjoying this latest offer, customers can sign up at http://m.erosnow.com
-ENDS-
About Vodafone Qatar P.Q.S.C
Vodafone Qatar P.Q.S.C. ("Vodafone Qatar") provides a comprehensive range of services including voice, messaging, data, fixed communications, IoT and ICT managed services in the State of Qatar, for both consumers and businesses alike. The Company commenced commercial operations in 2009 and has 1.7 million customers as of 31 March 2019. Its state-of-the-art network infrastructure is expanding to cover key locations in the country with fibre connectivity and 5G, along with an extensive digital ecosystem, which will contribute to Qatar's continued growth and prosperity. Vodafone Qatar's vision is deeply rooted in its mission to connect today's ideas with the technologies of tomorrow by pioneering digital innovation and becoming people's first choice in telecom and digital services. Please visit www.vodafone.qa for more details.
For press enquiries, please contact:
Lana Khachan
Head of Communications, Vodafone Qatar
E-mail: lana.khachan@vodafone.com