Doha, 2 July 2019: Vodafone Qatar and Qatar Post have entered into a strategic partnership that sees two innovative companies join forces to deliver superior customer service.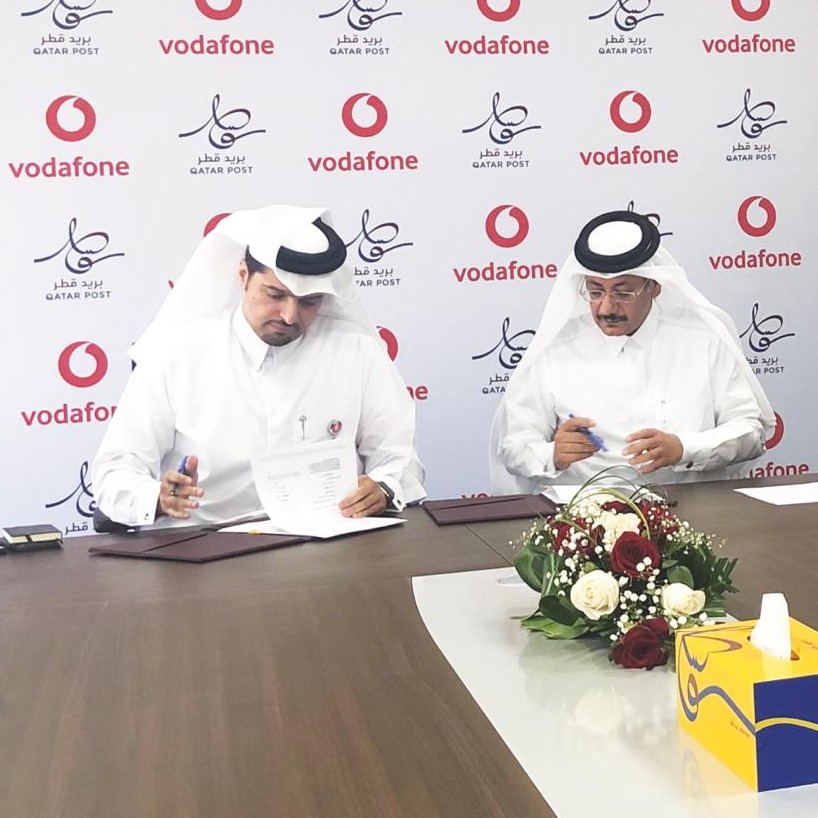 The agreement demonstrates the organisations' shared goal of delivering impact through innovation and logistics services. Under the agreement, Qatar Post, through its extensive nationwide network will manage a substantial portion of Vodafone Qatar's advanced logistics operations, resulting in significant enhancements to the consumer experience.
Vodafone Qatar's CEO Sheikh Hamad Abdulla Al-Thani and Mr. Faleh bin Mohammed Al Naemi, Chairman & Managing Director of Qatar Post, signed the agreement today at Qatar Post's Headquarters. Also present were representatives from both companies' senior management teams.
Commenting on the agreement, Vodafone Qatar's CEO Sheikh Hamad Abdulla Al Thani said: "We're proud to partner with the nationally trusted provider, Qatar Post, to enhance our customer services. Putting our customers first is at the forefront of everything we do. Whether in-store, online or via our digital channels that are used today by more than 600 thousand people each week, we are focused on ensuring that every customer touch-point and every product delivers a seamless, efficient and smooth experience."
For his part, Mr. Faleh bin Mohammed Al Naemi, Chairman and Managing Director of Qatar Post, said: "This partnership falls under the umbrella of efforts we are pouring into local institutions and companies, supporting their integrated postal services into growing, evolving and maximizing the efficiency of their operations, as they contribute to Qatar's sustainable development, economic growth and diversification ambitions, and National Vision 2030. While we persist with these efforts, we continue to align the development of our postal products and services with this ambition, particularly our delivery services, to provide our customers with the best experience in the fastest time possible."
-ENDS-
About Vodafone Qatar P.Q.S.C
Vodafone Qatar P.Q.S.C. ("Vodafone Qatar") provides a comprehensive range of services including voice, messaging, data, fixed communications, IoT and ICT managed services in the State of Qatar, for both consumers and businesses alike. The Company commenced commercial operations in 2009 and has 1.7 million customers as of 31 March 2019. Its state-of-the-art network infrastructure is expanding to cover key locations in the country with fibre connectivity and 5G, along with an extensive digital ecosystem, which will contribute to Qatar's continued growth and prosperity. Vodafone Qatar's vision is deeply rooted in its mission to connect today's ideas with the technologies of tomorrow by pioneering digital innovation and becoming people's first choice in telecom and digital services. Please visit www.vodafone.qa for more details.
For press enquiries, please contact:
Lana Khachan
Head of Communications, Vodafone Qatar
E-mail: lana.khachan@vodafone.com